"
Girl Talk
" is a song by American R&B/Hip-Hop girl group TLC that was released as the lead single from their fourth studio album
3D
. It was released on August 8, 2002 and it peaked at #28 on the
Billboard
Hot 100 chart and #23 on the Hot R&B/Hip-Hop Singles & Tracks chart. In addition, the song peaked within the top 20 in Denmark and New Zealand and the top 30 in the United Kingdom.
Background and composition
Edit
"Girl Talk" was written by Lisa Lopes and Tionne Watkins along with Anita McLoud, Edmund "Eddie Hustle" Clement and Kandi Burruss. Featuring production by Hustle, it's an R&B and hip-hop song about deep conversations between members of the female gender that's usually about boys.
Music video
Edit
The music video for "Girl Talk" was directed by Dave Meyers and was filmed in 2002 after Left Eye's death.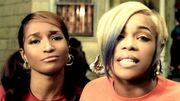 Though Left Eye doesn't appear in the live-action shots, she does appear with T-Boz and Chilli in cartoon form. The end of the video even features a tribute to her that says, "In loving memory of Lisa 'Left Eye' Lopes". Meanwhile, the live-action shots of the video portray girl talk in three different settings: the Dirty South, Japan and Africa and all three settings involve T-Boz and Chilli gossipping about a certain male person. Intercut with this footage is clips of T-Boz and Chilli performing a choreographed dance routine with male and female backup dancers.
Track listing
Edit
European CD maxi single, Australian CD maxi single
"Girl Talk" (Radio Mix) - 3:37
"Girl Talk" (Jacknife Lee Remix) – 3:50
"Girl Talk" (Kidstuff Vocal Mix) – 7:53
"Get Away" – 4:14
UK CD single 1, UK 12" single
"Girl Talk" (Radio Mix) - 3:37
"Girl Talk" (Jacknife Lee Remix) – 3:50
"Girl Talk" (Kidstuff Vocal Mix) – 7:53
UK CD single 2
"Girl Talk" (Radio Mix) - 3:37
"No Scrubs" – 3:39
"Waterfalls" – 4:38
European CD single
"Girl Talk" (Radio Mix) - 3:37
"Girl Talk" (Jacknife Lee Remix) – 3:50
US 12" single
"Girl Talk" (Radio Mix) - 3:37
"Girl Talk" (Instrumental) - 3:34
"Girl Talk" (Radio Mix) - 3:37
"Girl Talk" (A Cappella) - 3:17
Promo US CD single
"Girl Talk" (Radio Mix) - 3:37
"Girl Talk" (Instrumental) – 3:37
US DVD single
"Hands Up" (Music Video) – 4:01
"Girl Talk" (Music Video) – 3:43
Photo gallery slideshow – 0:32